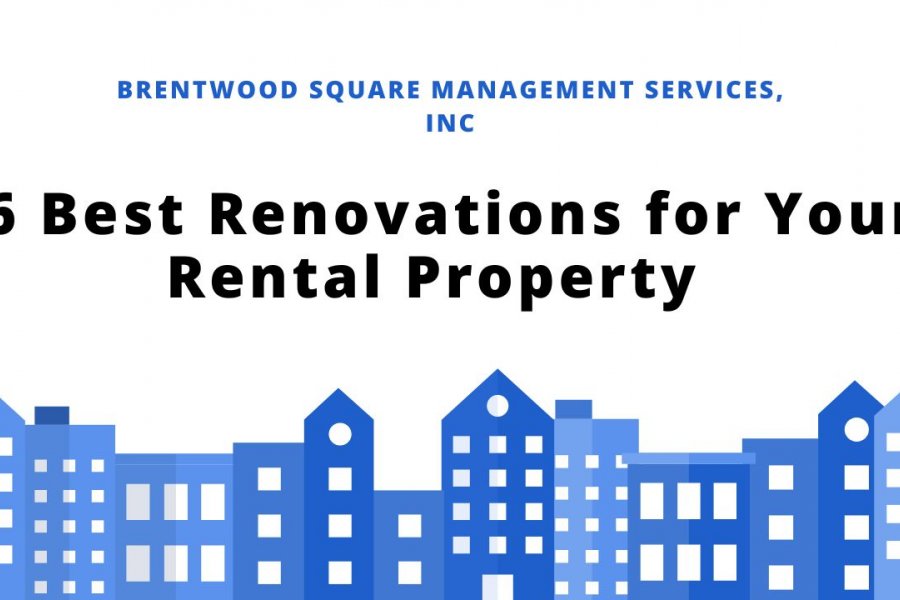 One of the most important steps that you can take to attract quality tenants is to ensure that your rental property is physically appealing and easier to market. This is the reason we recommend Landlords spend a certain amount of their budget for renovations and improvements.
But it's important to be careful when planning for renovations to make sure that you stick to your budget. Some rental property owners lose a huge amount of money when they go overboard with the improvements.
According to our expert property managers at Brentwood Square Property Management, here are the six best renovations that can help improve your rental property's overall value:
Renovate the Kitchen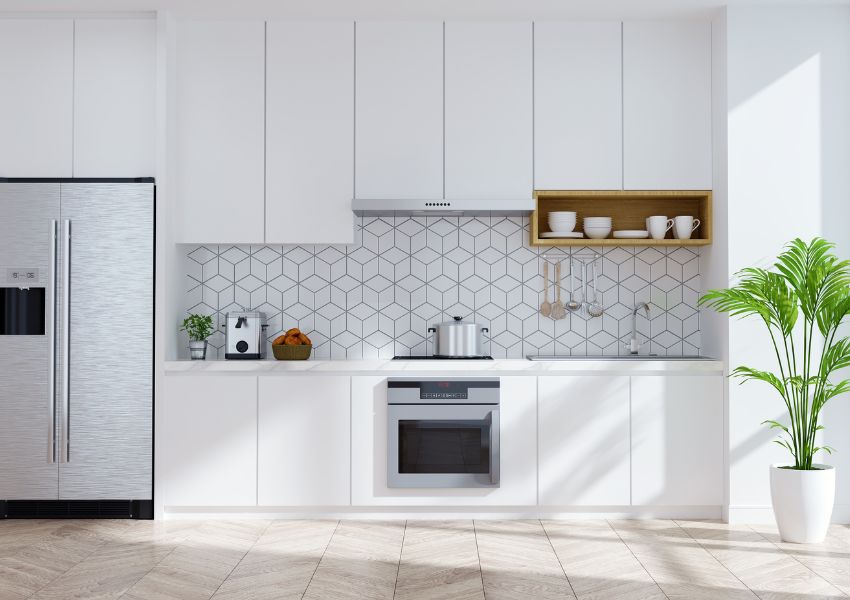 Many seasoned rental property investors prioritize updating the kitchen, appliances, and fixtures. This is because most tenants prefer to stay in a modern home. It's where they will cook and eat their meals.
So, updating the kitchen is one of the best ways to add value to a rental property. Here are some tips when updating an outdated kitchen:
Replace the Appliances
Old and mismatched appliances are not good for your rental unit's kitchen. So, setting a budget to replace these old appliances is an effective way to start. Just make sure to stick with your budget.
Add a Backsplash
You can install a glass-tile backsplash to create a more modern appearance. Glass-tile materials are typically easy to clean and require low-maintenance, which make them much more appealing to tenants.
Invest in New Countertops
If you have the budget, you can give your kitchen a total makeover by buying a new granite countertop. This hardy material will give your kitchen a great, modern, look and significantly reduce wear and tear.
Paint the Cabinets
Adding a fresh coat of paint or changing the paint color of your old cabinets is a wonderful way to give it a good look. You can also install an under-cabinet lighting to make it look classier.
Update the Bathroom
Just like the kitchen, renovating your bathroom to make it more modern, is a fantastic way to attract tenants. There are also numerous small upgrades that you can make which can significantly change to the overall look of the bathroom.
You can replace the toilet seat, add new shower heads, and update the faucet. You can also add a new vanity mirror and cabinet. If you have the budget, you can also replace those tiles that have seen better days.
Other upgrades you can do to improve the bathroom include replacing the shower head with a more modern one and installing functional shelves.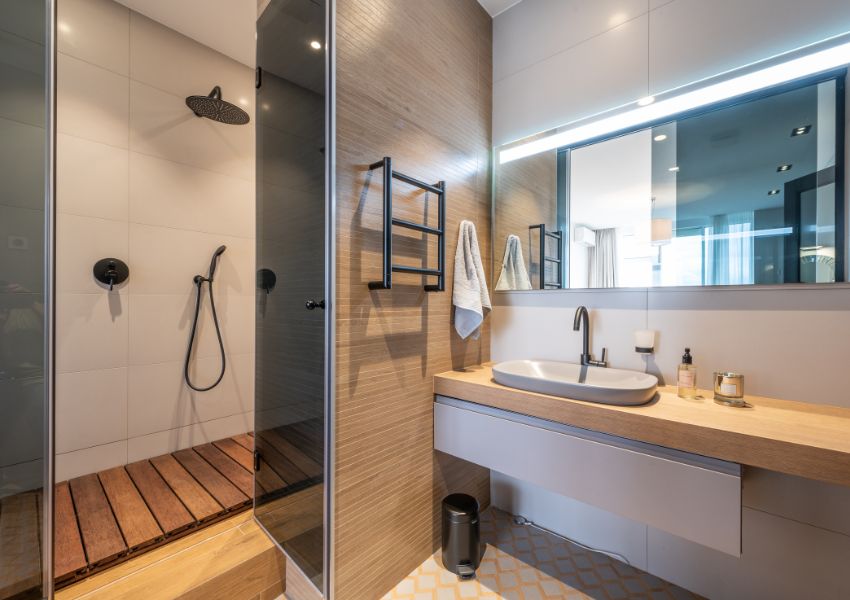 Consider the Flooring
At Brentwood Square, we believe there are few key factors to consider when choosing a flooring material for your rental unit are cost, maintenance, and appearance. Many tenants prefer materials that are easier to clean and less likely to absorb any unwanted odors or stains.
Carpet is not a desirable choice for rental properties because it is difficult to maintain and clean. Usually, carpets can trap dust, dirt, and unpleasant odor. To update the flooring, using hardwood is your best option.
But hardwood is usually expensive. As an alternative, you can opt for other more affordable options, such as luxury vinyl planks. These are waterproof, economical, and durable, making them an excellent choice for rental properties.
Paint the Property
Another way to increase the rental value of your property is to repaint the interior walls. You could paint the walls and add ambiance lighting to create a more welcoming atmosphere. Important advice when choosing paint colors is to keep them neutral. This can give potential renters a blank canvas to work with, so they can add their preferred decoration.
Add More Amenities
Adding the necessary amenities is an essential way to attract qualified renters. Amenities are one of the things that will get your rental property ahead of the competition. Here are few suggested amenities that you can install in your rental property to set you apart from other landlords:
Dishwasher
Washer and dryer in-unit
Air conditioning and heater
Storage space
Off-street parking
Fenced-in yard for pets (if you're okay accepting tenants with pets)
Outdoor furniture (like benches, tables, and chairs for outdoor dining)
Improve Your Curb Appeal
Make sure the external appearance of your property is well-maintained so you can stage it effectively. It is the first thing that your future tenants will notice when they check the property. So, you can improve the look of your property by landscaping the lawn and adding appropriate outdoor lighting.
If you choose to landscape your lawn, make sure to keep it low-maintenance and inexpensive. Many tenants don't have time to take care of the lawn so it's important to take this into consideration. You can also repaint the front door and the exterior walls if needed.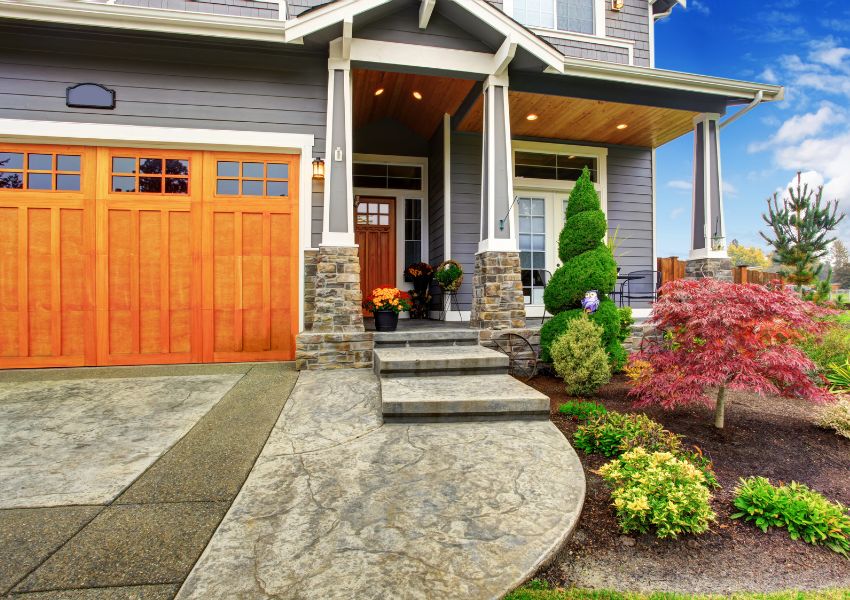 Bottom Line
If you want to add value and rent out your property, performing the necessary renovations and improvements is essential. It's crucial to keep your rental property up to date if you want to stay competitive. The above-mentioned renovations are typically important to attract potential renters.
The cost of repairs to make the property habitable can be tax-deductible. But any improvement on the property that is completely for the aesthetic of the property may not be considered a deductible expense.
If you are not sure how to get started with renovating a rental property, you can hire a professional property manager to help you with this project. For inquiries, contact Brentwood Square Management Services, Inc. at (615) 331-3055. We can help you anything from property marketing and tenant screenings, to maintenance and rent collection.